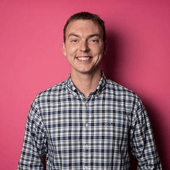 Simon Letch
Development Manager – Engineering & Technology
Hello!
I'm Simon Letch one of the Software Development Managers at Dotdigital. I started my journey at Dotdigital in 2011 as a Software Engineer. Right now I'm working with 4 teams on all things integrations and data!
Working at Dotdigital has always been great. We're a team of smart, fun people and get the chance to work with lots of new and exciting tech at high scale.
When I'm not reading and learning about tech I can be found down my allotment or underneath a slightly rusty Mk2 Ford Escort.