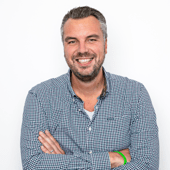 Steve Shaw
Chief Product and Technology Officer – Engineering & Technology
As Dotdigital's Chief Product and Technology Officer, Steve is responsible for all group product innovation, technology and tech acquisitions. 
His experience & background has always been in digital, he worked alongside the original founders when Dotdigital was initially formed in 1999, before making a move into Sports administration where he headed up technology for UK Horseracing's governing body. 
Steve later joined dotdigital as Director of Technology in 2014 and shortly after transitioned to the role of CPTO where he creates the global product vision and executes of the delivery of the organization's product, technology and infrastructure, consisting of Product, Engineering, Support, Data Science & Analytics, Service & Message Operations, Information Security, Corporate ICT and Business Solutions.
Steve is passionate about technology with over 20 years of experience working in digital, he has many certifications including ITIL, Lean-Six Sigma and, PRINCE2. He has a keen interest sustainable technology and is Dotdigital's executive sponsor for all things sustainability, driving change to fight against the climate emergency.