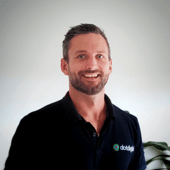 Ian Tilson
Head of Partnerships - APAC – Partnerships

I'm Ian, Head of Partnerships across APAC for Dotdigital. I joined the company in 2019 and work out of our Melbourne office. 
Our core focus as a Partnerships team is to achieve shared success with our fantastic partners, we working alongside the best partners in the business and industry leaders daily, to both acquire new clients and support the goals of our current customers.
One of the great things about our partnerships team is the connection with many internal teams, from sales to marketing, to customer success, we're all focused on the same goals. 

We're lucky enough to work with some hugely talented and inspiring people so when joining Dotdigital you can look forward to working with one of the best teams around!