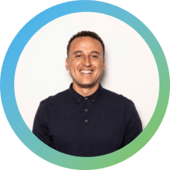 Justin Broomes
Head of Services Partnerships – Partnerships
I'm Justin (JB), Head of Services Partnerships at Dotdigital in our Americas and EMEA regions. As part of my role and together with the team, we lead our strategy and partner program activities for our agency, system integrator and consultant Partners.
In Partnerships we focus on shared success with our partners who we work closely with to support both winning new customers and helping existing ones.
Dotdigital's so nice, that I've worked here twice ;) I originally joined the Dotfamily in 2011 before taking a hiatus to gain experience at agencies and retail businesses before returning to Dotdigital in 2017.

This is testament to what a great company Dotdigital is to work for. We believe the best route to success is through a combination of effort, integrity and continuous improvement. If that resonates with you and you're looking for a challenging yet incredibly fun role then please apply. We'd love to hear from you.