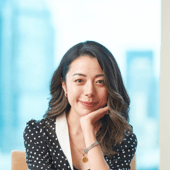 Rieko Uesaki
Country Lead and Head of Japan – Sales

My name is Rieko, Head of Japan at Dotdigital. 
I have joined the incredible company that is Dotdigital in January 2023 to fully launch Dotdigital in Japan. It's a very special phase to be a part of - being able to grow and build a strong market presence from ground zero, not to mention with a team of smart, talented professionals.
If you're interested in being a part of the team or have any questions, please reach out to me on Linkedin.
こんにちは!
Dotdigitalカントリーマネージャーの上崎と申します。
2023年の1月にDotdigitalの日本事業立ち上げを行うために入社し、以後すばらしいチームとパートナーシップ、セールス、カスタマーサクセス、マーケなど多岐に渡り動かせていただいています。

質問やご興味のある方など、いつでもLinkedinでご連絡くださいませ!