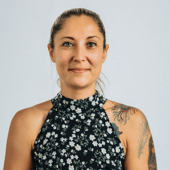 Jess Howes
Sales Operations Manager – Sales
Hi there!
Thanks for having a spy at my bio. I am Jess Howes, the Sales Operations Manager here at Dotdigital.
My department covers a wide range of responsibilities and interacts not only with most areas of the business but globally too!
Anything Sales Process related, so things like looking at how to use our CRM, our Sales Tools, the data and reporting we can get from said systems, and documentation on said systems all fall under my team's remit.
Please shout if you want to know more. I look forward to your questions, and maybe working with you in the future!