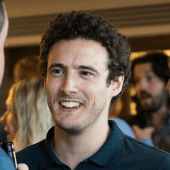 Tom Carroll
Custom Technical Solutions Manager – Professional Services
Hi 👋
I'm Tom and I head up the Custom Technical Solutions (CTS) team here at Dotdigital.
I first joined the Dotdigital Support team in 2009, and have been privileged to see the company grow to what it is today thanks to the hard work and vision of the many people that have worked here over the years.
There are a-lot of reasons why I've stayed for so long, but a few of the main ones include Dotdigital's ongoing desire to innovate and provide the best possible service to our customers; the ever-changing, challenging, and interesting work; and of course the great people that I get to collaborate with every day (yes it's cheesy, but it's true 🤷‍♂️).

My team are responsible for scoping out and building a diverse array of integrations between the Dotdigital platform and the multitude of other systems that our customers' utilise. We make sure that we really dig in to the requirements of each customer, to ensure that we can then deliver the right solution for them using all our platform and technical know-how.

CTS take great pride in ensuring we deliver work to the highest standard, so if you're a problem solver who gets a kick out of delivering top-notch solutions then I'd love to talk to you about any of the roles that we currently have open in the team!