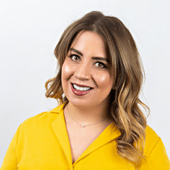 Isabel Munoz
Senior Marketing Manager, Americas – Marketing
Hi there! 👋
I'm Isabel but you can call me Izzy! 😊 I am the Senior Marketing Manager for the Americas and I work out of our brand new New York City office. My time at Dotdigital began in February of 2020, as the Events Marketing Manager for the Americas - as you can imagine a crazy time to get started in an events role!
Three years later and in a post pandemic world I'm still just as excited to be working at Dotdigital as I was on day one. I head up field and demand gen marketing for Americas region, and get to work cross functionally with my sales, partner mangers, and customer success teams as well as with the global marketing team. 
In short, there's never a dull moment here, but I'm fortunate enough to work with an incredible team of not only super intelligent likeminded marketers, but just generally amazing human beings across the globe which makes every day of work a good one! 
Feel free to connect with me on LinkedIn if you have any questions!  ✨